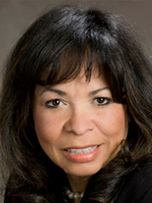 She brings thirty years of experience in corporate sales and marketing with Xerox Corporation and AT&T. Lydia is a marketing and branding consultant, facilitator, lecturer and certified professional coach. She is a "Vision Coach" focusing on transforming you and your business so that you are:
Relevant to your environment and desired outcomes
Resilient to change and disruption
Re-Engaged with all those invested in your success
"Coaching brings accountability and leadership skills within yourself! Your results will be measured and sustainable". Lydia is the Principal and Owner of Vision Coach Dynamics, Philadelphia, PA, Washington D.C. Metro, as well as an Affiliate Partner of The Mufasa Coaching Practice, Johannesburg, South Africa.
Lydia A. Henry serves as the Chief Vision Officer and Marketing Director for GirlfriendConnect with responsibilities for marketing strategies and campaigns consistent with GFC's vision and goals; design and coordination of social media; development and implementation of strategic planning; and the success, growth, and support of business partnerships and general membership.
Lydia is the former owner of "The African Enterprise", an export and import business registered and incorporated in Ghana West Africa and Philadelphia, Pa. She is a member of the US/Ghana Chamber of Commerce. Lydia serves as a member of the Board of Directors of W.O.A.R., Philadelphia, Pa.
She holds a Master of Human Services Degree, -Cognitive Behavior Therapy and Human Systems; Professional Coaching Certification (CPC); Master Practitioner in Energy Leadership Index Screening (ELI-MP); Certification in the Cooper Screening for Information Processing and Learning Differences; Certificate in Leadership and is a recipient of the Cecil B. Moore Outstanding Leadership Award, The Urban League Leadership Institute.
Visit Vision Coach Dynamics or contact Lydia at: Lydia@visioncoachdynamics.com to book a free 30 minute consultation.