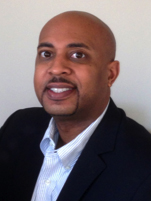 Patrick Fennell is  the Founder and President of Empowerment Solutions, LLC, and is the Founder and Executive Director of Empowerment Institute, Inc.  As a certified life and career coach with over two decades of diverse work and personal experiences, Fennell's passion for building positive personal and professional relationships between people of all ages and backgrounds has been the driving force behind his success in implementing interpersonal, skill-building programs.
Prior to founding Empowerment Solutions, LLC and Empowerment Institute, Inc., Fennell earned his start by graduating on a four-year, full-tuition scholarship, with a B.A. in Economics from the University of Maryland at College Park. Fennell then went on to lead a successful career at Citizens Bank of Maryland, where his various leadership roles and certification in Citizens' pilot training program equipped him with the skills to facilitate a development process and train hundreds of fellow colleagues to improve their interpersonal, customer service, and sales technique skills. This experience came to serve Fennell well during his service as Director of Operations and Regional Training Instructor for six of KFC's restaurant chain franchise groups.  His experience working with a diverse group of people spurred his creation and implementation of a franchise orientation program.  The program helped to reduce turn over by 101% and earned the restaurants under his direction numerous awards and recognition for sales and operative excellence.
Fennell's dedication and success for helping others to better themselves personally and professionally provided the opportunity to contribute years of devoted service to Union Baptist Church in Elizabeth, NJ, the Center for Family Resources in Ringwood, New Jersey, and the United Way of Northern New Jersey.  At Union Baptist Church, his Pastor, the Rev. R. Lenton Buffalo, Jr., licensed Mr. Fennell as a Minister in 2007 after receiving accreditation in Christian Ministry at New York Theological Seminary (NYTS). Through his own advocacy, leadership, and coordination, Fennell created Fatherhood and Parent Engagement programs at 8 sites for the Center for Family Resources.  His volunteer work with United Way of Northern New Jersey's Kids on Track Action Team contributed to the establishment of the Youth Empowerment Alliance (YEA).  In 2011, Empowerment Solutions, LLC contracted with the United Way of Northern New Jersey to facilitate mentor training in the five counties that they serve. Through Empowerment Institute, Inc., Fennell created the Intergenerational Community Advancement Network (I CAN), in order to mentor and create community around the middle school. United Way of Northern New Jersey partnered with Empowerment Institute, Inc. to implement the     I CAN program at various schools.
His unique approach to develop lasting, positive relationships among the various corporations, volunteer groups, churches, youth organizations, universities and colleges he visits is built on the ABCD principle – when we are accountable for our attitude, we make better choices which lead to our destiny.
Patrick is a huge sports and music fan.  He loves traveling and spending time with his wife Danielle and two children, Miles and Gabriella.  When reflecting upon life, Patrick shared, "At the end of the day, my desire and motivation is to create life-long memories with my family, friends and acquaintances and contribute to their ability to truly live and not merely exist.  I am thankful for their ability to do the same for me."